On May 3, EOFlow announced that it received international standard information security management certification 'ISO 27001' and privacy information management certification 'ISO 27701'. It was the first time in the Korean medical device industry that a company received 'ISO 27001' and 'ISO 27701' certifications at the same time. By acquiring these certifications, EOFlow proved its highest level of security in the digital healthcare industry where information and privacy protection is critical. EOFlow expects to improve customer satisfaction by increasing awareness of information and privacy protection and by strengthening capabilities within the organization.
"The acquisition of ISO 27001 and ISO 27701 certifications proves our excellent information and privacy protection system," said Han Sang-jin, head of the research and development department at EOFlow. "Information protection cannot be overstated because smart wearable medical devices such as EOPatch are directly attached to users' bodies and generate digital data, and we expect that EOFlow will further increase its competitiveness in global markets by acquiring dual certification for the first time in the industry." he said.
Check out the news on Hankyung BIO Insight posted on 05/03/2021 (in Korean only):
https://www.hankyung.com/it/article/202105031711i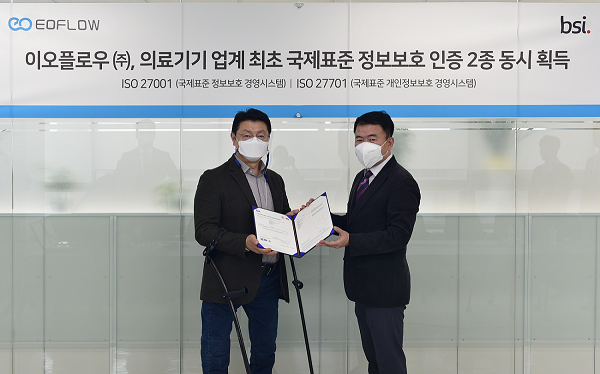 EOFlow had the ceremony at Seohyeon office on the April 30th. Jesse Kim, founding CEO of EOFlow and Kyung-soo Song, CEO of BSI Korea are on the photo above.